On September 28, 2011, I am turning thirty. I am dreading it. (Of course, I know thirty isn't "old" and life certainly does not end there. Please do not take this list to mean that I feel that way.) This milestone is both exciting and ominous. I want to enter my thirties knowing that I accomplished as much as possible in my twenties. Thirty can be my fresh start. I will chronicle how (if) I accomplish each item and hopefully turning thirty will be happier than scary.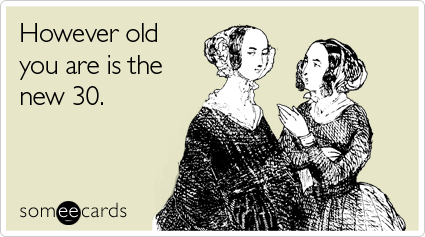 1. Join a running group and actually go.
2. Find a veggie burger recipe that J and I both like.
3. Get my office decorated and organized.
4. Run a 15K.
5. Volunteer at a soup kitchen, food bank, or homeless shelter.
6. Learn how to sew.
7. Finish a knitting project.
8. Make a soufflé.
9. Paint the house.
10. Hold a plank for one minute.
11. First double digit training run.
12. Do one thing that makes me uncomfortable (like introducing myself to people) and get comfortable with it.
13. Take an exercise class no matter how silly I think I might look.
14. Read Pride and Prejudice.
15. Make macarons.
16. Surprise J.
17. Learn how to use WordPress.
18. Learn basic photography.
19. Revitalize my wardrobe.
20. Write a five year plan.
21. Spend more time with my family.
22. Reach out to an old friend.
23. Write a recipe.
24. Go dancing.
25. Get prints of my wedding photos and put them up in the house.
26. One day of complete positivity.
27. Bake a baguette that rivals ones I ate in France.
28. Get an article published.
29. Play music again.
30. Look back with happiness.
What would you put on your list?