Yesterday's run was kind of crappy. During it, I started to realize that doing a hard 60 minute workout the day after running seven miles might not have been the best idea.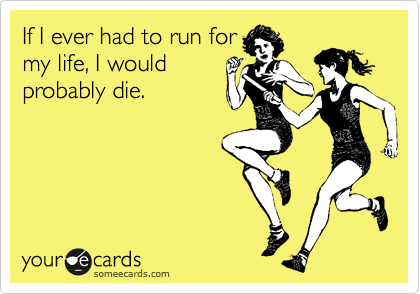 Live and learn. Moving forward, I will probably have Sunday be an easy or rest day.
Now for the money shots, a day in the life of Dina's food.
Breakfast
Shredded Wheat
Uncle Sam's
Sliced Almonds
Banana
Strawberry Kefir
Snack
Lunch
Super Greens
Grape Tomatoes
Peppers
Avacado
Goat Cheese
Cucumber
Olive Oil
String Cheese
Snack
Pre-Run Snack
Whole Grain Wasa Cracker
Dinner
Six-Inch Veggie on Honey Oat Bread (From Subway)
Spinach
Cucumber
Green Peppers
Olives
Swiss Cheese
One Pickle
One bag of Baked Lay's
This post linked up with peas & crayons for What I Ate Wednesday.
Were you able to buy the livingsocial deal for Whole Foods? It is crazy to me how much buzz the deal got and how many were sold. Should be interesting to see if more grocery stores jump on the bandwagon.
                                                      (Source)